---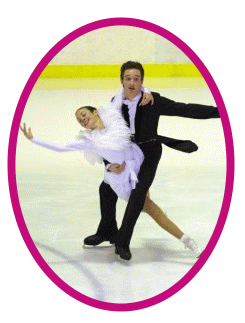 Siobhan Karam and Joshua McGrath are one of the brightest hopes on the horizon in Canadian ice dance. After placing twelfth at the 2001 Canadian Championships as Novices, Siobhan, 15, and Josh, 16, jumped onto the international stage by winning the North American Challenge Skate at Baltimore, Maryland. As a result of their achievement, they were named to the Canadian Junior Grand Prix team and given the opportunity to compete at the JGP event in Gdansk, Poland. Making the move to the Junior level in 2002, Siobhan and Josh placed tenth at Canadians. After winning an early-season NAC event to begin the 2002-03 season, Siobhan and Josh were rewarded with two Junior Grand Prix assignments, and came home from Europe with a bronze medal from JGP Slovakia. Recently, Siobhan and Josh jumped seven places from their result in the junior dance event at 2002 Canadians to become the 2003 Canadian Junior Dance Bronze Medallists. With a lilting, balletic style and smiles that reach the back row of any arena, this young team is a joy to watch.
---
Home
This page is where you'll find the latest news on Siobhan and Josh, and info about any of their upcoming competitions, TV appearances, or other events.
Bios
Want to know more about Siobhan and Josh? Read their bios here.
Competitive Record
Results from over their years as a team.
Photo Gallery
A few photos... hopefully there will be more soon!
Related Links
Articles, links to past results, and other related links.
Contact
About the site owner, contact info, and other site information.
---
The Latest News
January 9, 2002 - CONGRATULATIONS to Siobhan and Josh, the new Canadian Jr. Bronze Medallists!! Full results from the junior dance event at Canadians can be found here, and here's a pic from their FD.
October 13, 2002 - S&J place fifth at the Pokal der Blauen Schwerter, the JGP event in Germany. Next stop, Canadians!
October 5, 2002 - Siobhan and Josh won the bronze medal at Skate Slovakia, their first Junior Grand Prix event of the season, and placed second in the free dance! Congratulations! Full results can be found here.
August 28, 2002 - New pics in the Photos section courtesy of J.B. Mittan, including some brand-new shots from NAC Huntsville! :)
August 24, 2002 - Siobhan and Josh win the gold medal at the North American Challenge Skate event in Huntsville! Congratulations on a great start to the new season! :)
February 6, 2002 - The Windsor Star has an article about Siobhan and Josh and their training mates, Sabrina Granata and Bradley Yaeger.
January 31, 2002 - Added some new photographs from Canadians, taken by Marg Burwell.
January 26, 2002 - This site becomes the first Karam and McGrath fan site online! Happy surfing!
January 11, 2002 - Siobhan and Josh place tenth in their first year as Juniors at the Canadian Championships.
---
The photos on this page are property of Marg Burwell. Please visit her website for questions about photo use and to view more of her lovely photos.
---
HOME | Bios | Competitive Record | Photo Gallery | Links | Contact